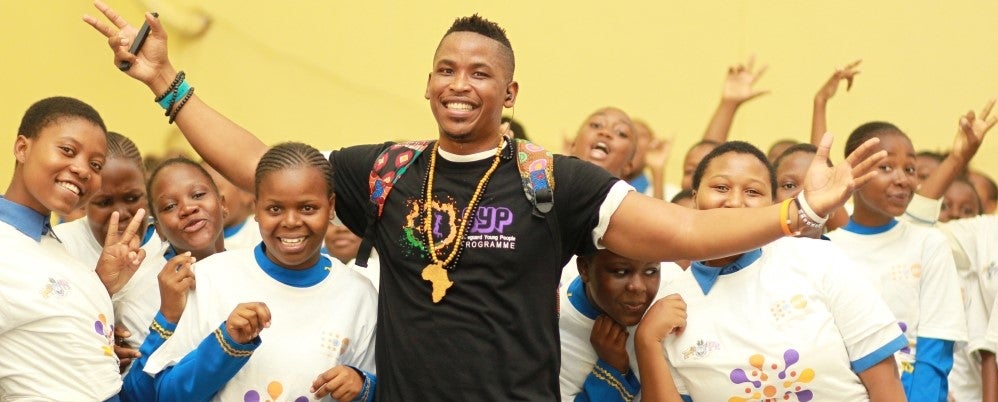 Imagine what it would be like if all adolescents and young people in Southern Africa are healthy, productive and empowered. Imagine them being free from sexually transmitted infections, including new HIV infections, unwanted pregnancies, child marriages and sexual violence. This is the future that UNFPA envisions.
---
About the Programme
It is why, in 2013, we developed the Safeguard Young People (SYP) Programme with the intention of scaling up comprehensive interventions for adolescents and young people in Southern Africa through a multi-sectoral approach, touching on policy, integrated HIV and youth-friendly sexual and reproductive health services, sexuality education for in- and out-of-school youth as well as youth empowerment.
SYP empowers adolescents and young people aged 10 to 24 years (with special focus on adolescent girls) to protect themselves from STIs including HIV, early and unintended pregnancy, unsafe abortion, early marriage, gender-based violence and harmful cultural practices, while promoting gender-equitable norms.
The first phase of the programme, which ended in December 2016, included the following key activities:
Developing multi-year national operational plans aligned to the regional proposal;
Conducting a baseline study and many focused assessments;
Capacity building for implementing partners;
Developing/adapting programme educational packages;
Identification and scaling up of best and promising practices.
This phase was funded by the Swiss Agency for Development and Cooperation (SDC), UNFPA Supplies (formerly Global Programme on Reproductive Health Commodity Security) and the UNFPA/UNAIDS-implemented SRH and HIV Linkages Project, co-funded by the European Union and the Swedish International Development Agency.
The second phase began in February 2017 and will end in December 2019. This builds on the achievements of the first three years of implementation and support scale up of interventions that improve adolescents and young people's sexual and reproductive health and rights through harmonization of laws and policies, integration of comprehensive sexuality education and/or social behaviour change communication (SBCC) programmes for in- and out-of-school adolescents and youth, and institutionalization of youth-friendly health services. It also addresses harmful practices, gender-based violence, gender inequality, boys' involvement and youth participation.
Regional Programme Steering Committee (RPSC) Meeting
To ensure effective direction and strategic guidance for the programme, a Regional Programme Steering Committee (RPSC) was established in 2014. The role of the regional RPSC is to provide policy and strategic guidance, and make appropriate strategic decisions.
Implementing countries